Skip to content
Skip to navigation menu
As part of our new security upgrades, you are requested to reset your password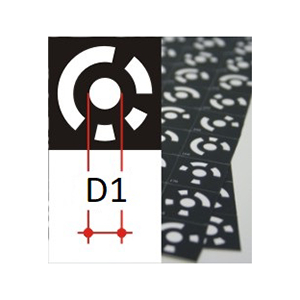 Target D1=5 mm retro coded No. 151-500 (P)
€500.00
In Stock - Despatched 1-2 Days
Quick Overview
Set consisting of retroreflective coded measurement targets with numbers 151-500. Ring diameter of center D1=5 mm. For permanently adhering to the workpiece.
Added to your shopping cart.
Measurement targets are fundamental components of the photogrammetric measurement system. They are used for signaling measurement points. Depending on the application, they are available in different sizes and materials. Permanent targets (P) are applicable even in high temperatures, up to 150°C (Retro-reflective up to 65°C). Removable targets (R) are easy to remove from the workpiece after finishing the measurement. Reusable targets (U) can be used multiple times and save costs. Magnetic targets (M) offer easy application and removability as well as reusability on magnetic surfaces.
| | |
| --- | --- |
| Coding | 14 Bit |
| Reflection Type | Retro-reflective |
| Diameter (D1) | 5 mm |
| Adhesion | Permanent (P) |
| Material | High Gain 7610 |
| Temperature Resistance | + 15°C - 65°C |