Skip to content
Skip to navigation menu
As part of our new security upgrades, you are requested to reset your password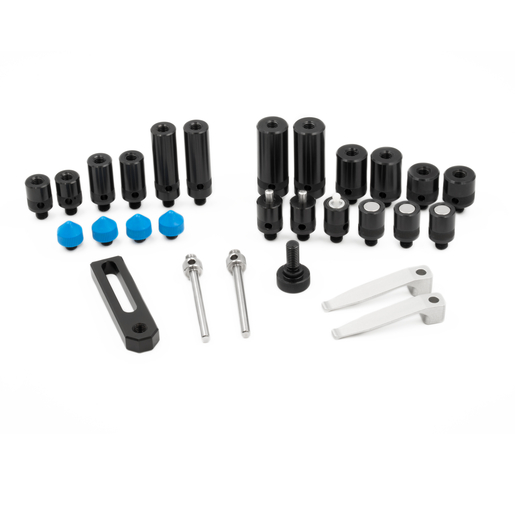 €430.00
In Stock - Despatched 1-2 Days
Quick Overview
The Swift-fix basic kit provides a basic set of components for the fixture construction. The components are delivered clearly and handy arranged in a robust storage box.
Added to your shopping cart.
Swift-Fix enables operators to correctly fixture parts of different shapes, sizes and complexity. It saves time while increasing repeatability and reducing the potential for measurement error.
Swift-Fix kits ensure all parts, however complex, are correctly fixtured before measurement. Five different kits are available to meet a full range of fixturing and measuring requirements and components are stored in a dedicated case, ensuring individual items are always easy to find.

Kit Contents:
2 x Ø16 x 20 Standoff (FX-SO16/20)
2 x Ø16 x 30 Standoff (FX-SO16/30)
2 x Ø16 x 50 Standoff (FX-SO16/50)
2 x Ø20 x 20 Standoff (FX-SO20/20)
2 x Ø20 x 30 Standoff (FX-SO20/30)
2 x Ø20 x 50 Standoff (FX-SO20/50)
4 x Cone (FX-CONE)
2 x Tension Post (FX-POST)
2 x Slider Block (FX-SLIDER)
3 x Standoff Magnet (FX-SO/MAG)
2 x Tension Clamp Medium (FX-CTMED)
2 x Standoff Pin (FX-SO/PIN)
1 x Lateral Clamp (FX-LATMED)
1 x Thumb Screw (FX-THUMB)
2 x Tommy Bar (FX-4TBAR)
1 x User Guide (FX-GUIDE)
1 x Storage Box

For more information, please visit the Swift-Fix website.
Kit Content
Without Baseplate
Thread
M8
Application
CMM
Portable Measuring Arm
Weight
7,200 g